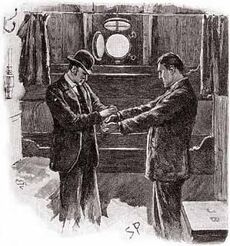 Inspector G. Lestrade
In the Sherlock Holmes book series Lestrade has appeared in 13 of the adventures. Not a whole lot is written about his life outside of scotland yard, but he is always willing to follow any leads givin to him through Sherlock Holmes (for the most part) In the original Sherlock Holmes book series (by Sir Arthur Conan Doyle) his personality is quite opposite to that of on the BBC Sherlock Television series. On the television series (mentioned in the last sentence) Lestrade is more of a humble sort of detective, and often admits that he needs the help of Sherlock Holmes in many of his cases and follows his every suggestion. In contrast, his personality in the books (created by Sir Arthur Conan Doyle) is more on the pompous side. He prefers not to spend his time imagining up thearies but is a man of action and is allways quick to make an arrest. Most of the time he is on the wrong track and is sooner or later (mostly later) corrected by Sherlock, but he is all around Scotland Yards Best.
Is Lestrade a good Detective?